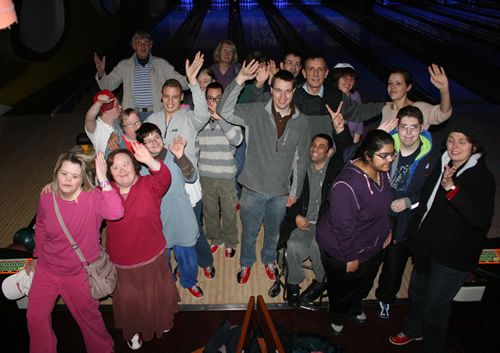 Bowling has always been a very popular activity for many of our Members. We had to suspend Bowling, along with all other activities, at the start of the Pandemic, and we know Members have really missed it.
We are pleased that we are now restarting these sessions. Initially anyway this will be once every 3 months (dates in the Programme).
We will meet as before on Sundays, at Tenpin, Valley Park Leisure Complex, Hesterman Way, Croydon CR0 4YA. We will be booking for 3 Lanes initially
Costs have gone up significantly.
Pre pandemic we enjoyed a generous discount. We will do our best to secure a discount in future, to keep the activity affordable for Members. We will confirm the cost in the current Programme. We will still be booking for 2 games per session. In the course of 2022 we will review how that is working and may alter the arrangement, but we are committed to keeping Bowling as one of our much loved activities.
Sunday Bowling is relatively expensive as it is very popular. Tenpin offer better deals on weekday evenings. We think most of our Members will prefer to still go Bowling on Sunday, but if there is enough interest we will trial a weekday evening session which may offer better value for money. We think many of our Members and their carers will not want to go out in the evening, so this will not replace the
Sunday sessions but others might be interested, so we will test out the evening options as well.
PLEASE Remember:
PLACES ARE LIMITED AND IF YOU DO NOT BOOK, YOU MAY NOT BE ABLE TO PLAY.
IF YOU BOOK BUT THEN DON'T TURN UP YOU WILL STILL HAVE TO PAY.
Croydon-Contacts-Bowling-Guidelines-March-2022-compressed